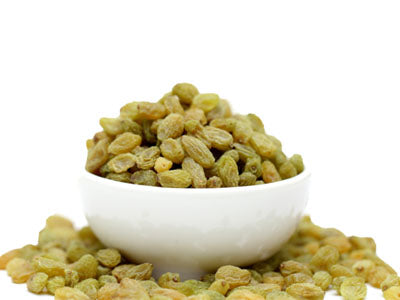 Organic Raisins (Kishmish)
Currently this Product is Out Of Stock.
As we all know, organic raisins or what we call kishmish are dried grapes and they just taste awesome in any recipe, sweet or savory. The term raisin is derived from the Latin word racemus, which means a bunch of grapes.  It takes about 4 tons of grapes to make 1 ton of raisins.  They can be green, black, blue, purple, or golden yellow depending upon the color of grapes. In ancient Roman times, slaves were traded for jars of raisins. About half of the world's organic raisins are supplied by California and Fresno is the raisin capital, but the finest organic raisins come from Spain.  April 30th is celebrated as ""National Raisin Day.""
Natural and certified organic raisins help boost your body's immune system, blood clotting mechanism and strengthens blood vessels. They are also rich in electrolytes, particularly potassium, which helps counter hypertension. Organic raisins have high sugar content, so diabetics and weight watchers, be careful! But mountaineers and campers can always keep them handy as energy punch. Consuming raisins regularly will help improve your colon function and decrease the risk of cancer. Organic raisins are also helpful in treating anemia and acidity.
Fresh grapes, as you know, are not available throughout the year. So, why be deprived of their benefits when the online store is always there for you to help you. To store your organic raisins longer, keep them in a cool and dry place or refrigerate. Have a glass of milk everyday boiled with organic raisins and saffron and you can certainly keep the doctor away.