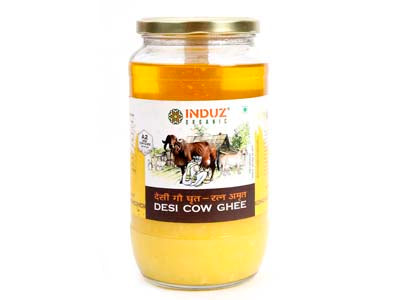 Organic Desi Gau Ghee Jar (Induz Organic)
Currently this Product is Out Of Stock.
Organic Desi Gau (Cow) ghee is pure and 100% certified. It is made with the milk of organically raised cows. It is free from any harmful preservatives. It is stated as a superfood and is used in every other dish, or can be eaten by spreading it over rotis, dal, etc. -
Organic Desi Gau Ghee is rich in vitamin A and C.

Has butyric acid which helps to build the immune system.

Contains probiotics and prebiotics combined with fiber.

It Has a lot of protein which resolves digestive issues.