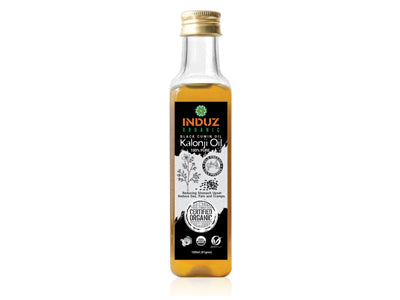 Organic Black Cumin(Kalonji) Oil (Induz Organic)
Currently this Product is Out Of Stock.
Organic Black Cumin Oil is made with organically grown black cumin (Kala jeera or kalonji). It is pure and free from any artificial and harmful chemicals. It is used as a medication for several conditions like asthma, effective in the weight loss process, helps lower cholesterol.
It is used for hair to keep it healthy and to prevent the hair fall

 Dosage: It can be consumed raw- 1 tbsp

Use it for cooking, baking, etc.

It is also used for massages