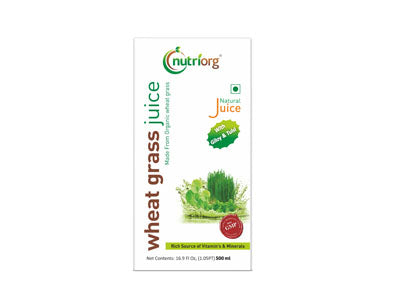 Natural Wheat Grass Juice (Nutriorg)
Currently this Product is Out Of Stock.
Nutriorg Wheat Grass Juice is the best combination of herbs that include Wheat Grass, Giloy & Tulsi. Wheatgrass is instantly absorbed into the bloodstream and is considered to give prompt energy. It is an effective healer due to its many minerals and vitamin contents. Juice also contains approximately 70% Chlorophyll that is an important blood generator.
 Wheatgrass helps accelerate the production of hemoglobin.

It helps in detoxification

It boosts your immune system 

It helps to prevent constipation.

Tulsi is a powerful antioxidant, Giloy juice helps to build immunity.

This Juice contains 17 amino acids which are the building blocks of protein.
How to Use:
Mix 15-20 ml of Nutriorg Wheatgrass Juice in 200 ml of lukewarm water in a non-metallic pot and consume empty stomach twice a day preferably morning and evening.