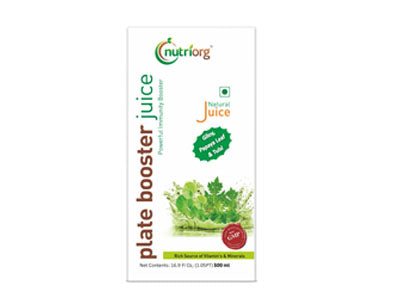 Natural Plate Booster Juice (Nutriorg)
Currently this Product is Out Of Stock.
Nutriorg Plate Booster is 100% pure and unadulterated with some powerful combination of 10 incredible herbs including Giloy, Papaya Leaf, Aloe vera, Ginger, Tulsi, Mulethi, Black pepper, Turmeric, Ashwagandha, and Neem. It is made from herbs that are cultivated in the company-owned certified organic farmlands. 
Papaya Leaf is rich in enzymes that aid digestion

It helps in the generation of platelets in the blood. 

It removes toxins from the body 

 Regular consumption of the Nutriorg Plate Booster helps in improving platelets and building immunity.
How to Use:
Consume 15-20 ml of Nutriorg Plate Booster Juice in 200 ml of lukewarm water in a non-metallic pot and consume empty stomach twice a day preferably morning and evening.