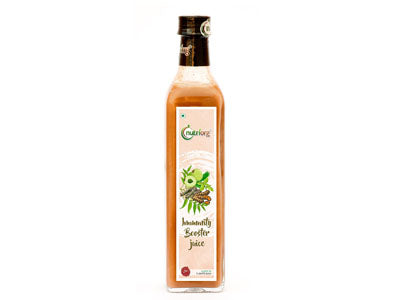 Natural Immunity Booster Juice (Nutriorg)
Currently this Product is Out Of Stock.
The main purpose of the immune system is to act as a watchdog against the harmful alien cells that are the root cause of certain diseases. A robust immune system helps the body in its daily pursuits of fighting germs that we come in contact with every day. Immunity Booster Juice helps to boost immunity and helps to make it function properly so that your body can fight any type of germs to protect it from various ailments. This juice is a combination of Giloy, Tulsi, Neem, Haldi, Dalchini, Lemon, Kinnow, Noni, Honey, and Amla. All these ingredients are renowned for working wonders for the immune system. They have strong immunity-boosting properties that boost the body's immunity very swiftly.
It improves your digestion.

It is beneficial to reduce acne scars and other forms of pigmentation on the skin.

The ingredients together balance out the hormones.
The Nutriorg Immunity Booster Juice helps to build a strong immunity that protects our health.