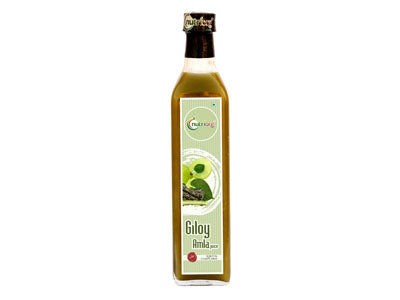 Natural Giloy Amla Juice (Nutriorg)
Currently this Product is Out Of Stock.
The Nutriorg Giloy Amla Juice is 100% natural and has been extracted from Giloy and Amla that has been grown in certified organic farms. Amla is the richest source of vitamin-C. The Giloy plant is an Ayurvedic herb that has been used and advocated in Indian medicine for ages. The stem of Giloy is of the highest utility.
Its benefits range from boosting digestion to strengthening immunity.

It is good for the eyes, skin, and hair. 

It also helps in improving the efficacy of other vitamins in the body.

Giloy helps detoxify. It contains minerals such as Iron, Calcium, and Phosphorous besides Vitamin A and C.

It is a powerhouse of antioxidants that fight free-radicals, maintains cell-health, and keeps away ailments.

It helps to boost immunity and metabolism.

It helps to accelerate wound healing.

Protects from common cough & cold   
How to Use:
Mix 15-30 ml of the Giloy Amla Juice with 3 parts of lukewarm water in a non-metallic glass.

Consume an empty stomach twice a day (Morning & Evening). 

For best results use regularly for 6 months.