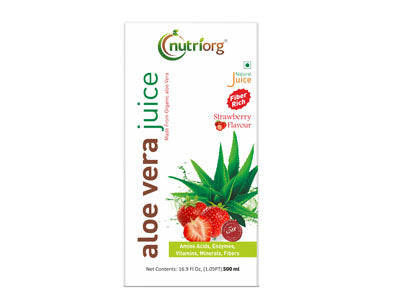 Natural Aloevera Strawberry Juice (Nutriorg)
Currently this Product is Out Of Stock.
Aloe Vera is a multifaceted medicinal plant. The plethora of values and qualities that an Aloe Vera plant possesses can remotely be compared to any other plant or herb. Thus it is considered to be the king of medicines. In the world of Ayurveda, it has earned the title of the silent healer and finds numerous mentions in the Ramayana, the Bible, and the Vedas.  Strawberry flavor acts as a balancing agent to neutralize the bitter taste of the Aloe vera juice so that it tastes better.
Aloe vera is rich in B12 which is a good source for vegetarians and vegans as B12 is majorly found in animal sources.

It prevents dehydration of the body

It helps to maintain electrolyte balance.

It helps to accelerate the healing of wounds and cuts and is beneficial for healthy skin. 

It helps to check the weight control 

Keep cholesterol levels in check.
How to Use:
Mix 15-20 ml of Nutriorg Aloe Vera Strawberry Juice in 200 ml of lukewarm water in a non-metallic pot and consume empty stomach twice a day preferably morning and evening.