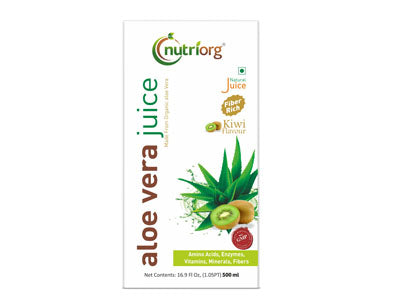 Natural Aloevera Kiwi Juice (Nutriorg)
Currently this Product is Out Of Stock.
Aloe Vera is a multifaceted medicinal plant. The plethora of values and qualities that an Aloe Vera plant possesses can remotely be compared to any other plant or herb. Thus it is considered to be the king of medicines. Due to its magnificent values, it is believed to be a miraculous plant for treating numerous health problems. The added kiwi flavor is completely organic and acts as a balancing agent to neutralize the bitter taste of the Aloe Vera juice so that it tastes better.
It is known for the regulation of metabolism

contains various enzymes that help in the digestion of carbohydrates, proteins, and fats.

Aloe vera is power-packed with nutrients as it is a powerhouse of Vitamins C, E, and Beta Carotenes and traces of B12. 
How to Use: 
Mix 15-20 ml of natural Aloe Vera Kiwi Juice in 200 ml of lukewarm water in a non-metallic pot and consume empty stomach twice a day preferably morning and evening.