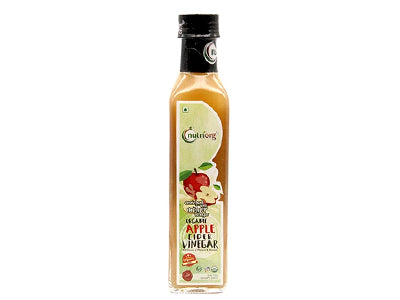 Certified Organic Apple Cider Vinegar (Nutriorg)
Currently this Product is Out Of Stock.
The Nutriorg Apple Cider Vinegar is made by sourcing organically grown Himalayan apples and vinegar made with naturally fermented ingredients. Apple cider vinegar is the most favored type of vinegar in the natural health community. Before the packaged product reaches you, each of our product lot undergoes laboratory tests to ensure it has the right ingredient mix which are organic, safe to use, and hygienically prepared.
 It acts as a natural sterilizer and preservative for fruits and vegetables.

Helps trigger metabolism and strengthens immunity.

Helps lower the Bad Cholesterol while increasing Good Cholesterol.

Its regular intake keeps the body's pH level maintained hence checking frequent occurrences of acne, age spots of the skin, prevents rashes and sunburns.

Keep your weight in check. 
How to use:
Take a warm glass of water, add one tablespoon of apple cider vinegar and drink it regularly in the morning.

If you are struggling with acne, you could dampen a cotton stub with the vinegar and apply it to the affected area. Thereafter, rinse thoroughly before going to bed at night.

You could be a little more inventive and use the vinegar as a salad dressing for your tropical whole veggies salad or with nuts and veggies.