Mango Oats Breakfast Smoothie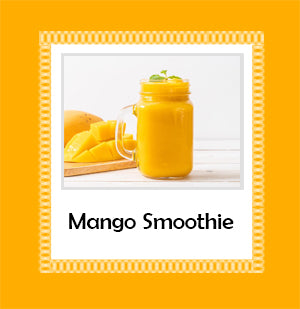 Serving: 2 glasses
Prep Time: 15 mins
Soaking Time: 6 hours
Want some healthy chilling smoothies? Mango oats smoothie is a must try. Pair it with cookies of your choice and enjoy the summer.
Ingredients :
1 Cup Alphonso or hapus mango pulp (ripe & sweet)
½ Cup instant or cooking oats
3 Cup low fat milk, chilled
1 teaspoon organic honey
1 teaspoon organic chia seeds (sabja)
Method :
Soak organic oats in a cup of milk. Keep in the fridge overnight for 5 – 6 hours.
To make the smoothie, blend soaked overnight oats. Then add organic alphonso mango pulp/ cut pieces, remaining chilled milk to it and blend to a smooth consistency.
Pour mango smoothie into chilled serving glasses. Sprinkle chopped organic alphonso mango,chia seeds, and honey.
Enjoy Mango Oats Breakfast Smoothie chilled.
Recipe Notes :
Make sure to use ripe and sweet mango pulp for this smoothie recipe.
Use fresh ripe mangoes
While blending the smoothie you can add ice cubes as well.
For a vegan smoothie, use almond milk or coconut milk.
Source :