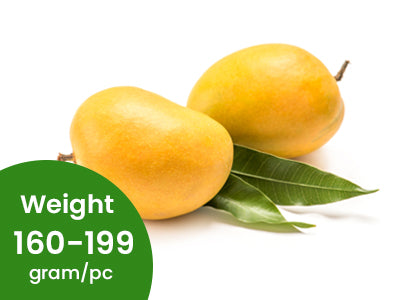 Organic Premium Alphonso Mango (Regular)
Currently this Product is Out Of Stock.
100% Organic Premium Alphonso Mango (Regular)
1. 15 pcs Premium Alphonso Mangoes
2. Each mango is above 160-199 grams in size
3. After ripening mango's weight would decrease by 10 to 15%

Organic Alphonso will not disappoint you when it will fill your room with its delightful aroma and satiating taste. Summer in the western and southern parts of India is incomplete without eating mangoes. The mango tree also is considered a sacred one for Hindus. Often the leaves of the mango trees are strung in marigold garlands to decorate homes and door frames on religious occasions or weddings.
Organic Hapus are as tasty as other Alphonso variety available in the market. These will make you go on and on. Of course, consuming in the right quantities is important and too much of anything can be very troublesome to the digestive tract. Best quality organic Alphonso mangoes are a rich source of Vitamin A, E, and selenium.
Organic Hapus are meant to enjoy as it is, you can just slice them or peel them and consume. Sometimes a bowl of fresh mango pulp is also garnished with a slice of mango and a cherry to add color and taste when consumed as a dessert. Many regional savory dishes are made from baby hapus.