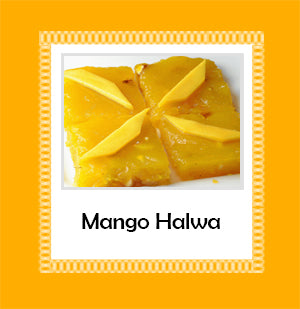 Servings 3 to 4
Time: 25-30 mins
Approximation is the key to indian kitchen. Most Indian women do not use measuring spoons or cups for measuring the ingredients, they have the power of approximation. Halwa is a traditional indian delicacy which is perfectly cooked by mothers. Here is a little twist to the traditional halwa.
Ingredients :
Method :
Heat ghee or oil in a thick bottomed pan.
Add organic sooji or rava and fry till they change color to light brown and you get a lovely aroma.
Add organic dry fruits and continue to fry for a few minutes.
Heat 1.5 cups of water in another pan.
Add this hot water to the sooji and dry fruits mixture and mix it well.
Add milk and sugar to the mixture and stir.
The semolina absorbs both water and milk quickly and swells.
Continue stirring so that the mixture does not stick at the bottom of the pan.
After 1 or 2 minutes, add organic alphonso mango pulp and stir again well and ensure that the mango pulp is mixed well.
Add cardamom powder and organic saffron and stir till the moisture reduces.
Cover with a lid and cook mango halwa for 1 or 2 minutes.
Source :