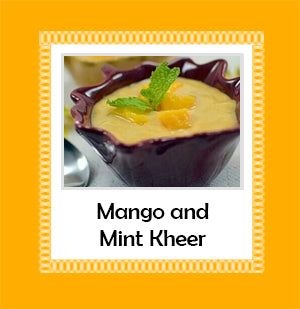 Servings : 6
Time: 1 hours
Super delicious dessert best for the summer. Mango kheer is quick and easy to make. It is filled with the goodness of mango pulp and garnished with almonds and saffron. Kheer is liked by adults and kids alike.
Ingredients :
1 cup organic basmati rice
2 ½ cup milk
3 tbsp powdered sugar
1 cup organic mango puree
mint leaves
A pinch of saffron
organic dry fruits (Alpmods, Raisin)
3-4 green cardamom
2-3 cloves
Method :
Stir milk in the pan and add organic basmati rice and powdered sugar in it.
Then add a pinch of organic saffron and stir them together.
Once the mix comes to a boil, add organic mango puree and sprinkle some dry fruits and fresh organic mint leaves
Stir gently and cover it, letting the rice cook on low heat till the rice is fully cooked and the kheer is creamy & thick.
Add little organic green cardamom into it. Place it in a bowl and sprinkle some chopped organic almonds over it.
Keep it in the fridge to cool and serve cold.
Source :