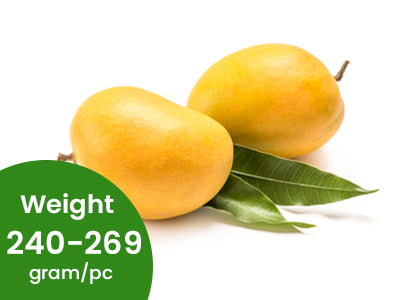 Organic Premium Alphonso Mango (Size A)
Currently this Product is Out Of Stock.
100% Organic Premium Alphonso Mangoes (Size A)
1.1 Dozen Alphonso Mangoes (12 pcs)
2. Each mango is above 240-269 grams in size.
3. After ripening mango's weight would decrease by 10 to 15%

Organic Alphonso Mango (Size A) also known as Hafoos or Hapuz is India's favorite fruit. It is loved for its rich flavor, natural sweetness, and vibrant yellow-orange hue. It is very appropriately titled "King of Mangoes" The history of mangoes is as rich as its title and taste. The variety was named after a Portuguese general and military expert who established colonies of the Portuguese in India. They used grafting techniques on mangoes. It is one of the reasons why it is also one of the most expensive mango varieties. The only thing that's not satisfactory about mangoes is that it is a seasonal fruit. Who wouldn't want to eat mangoes all around the year? They are mostly grown in Sindudurgh, Ratnagiri, and Raigad districts and even in Konkan.
Fresh Organic Alphonso Mango is full of health benefits. It is a great source of iron which is helpful to anemic patients. Secondly, it ensures that fetus in the womb of a pregnant woman grows completely. It helps in preventing cancer and fighting it. Best quality organic Alphonso mangoes are a rich source of Vitamin A, E, and selenium.
Alphonso mango tastes amazing with any kind of fruity dish. One can try making mango ice cream on a hot summer day or just make the traditional Indian Amras. But organic alphonso mangoes are mostly used in fruit salads or Mastani (Pune special Ice-cream and milkshake combo). Pulp or chopped mangoes can enhance the taste of your chilled fruit salad during hot summers.