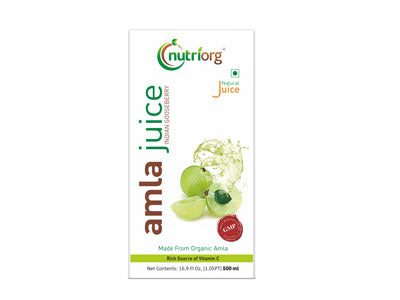 Natural Amla Juice (Nutriorg)
Currently this Product is Out Of Stock.
Nutriorg Amla Juice is made from Organic Amla which is cultivated in the company's own certified organic farmland situated in Rajasthan. Amla Juice is 100% pure and unadulterated. Amla is the richest source of vitamin-C. According to the ancient science of Ayurveda, regular consumption of amla balances all three doshas, namely, Vata, Pitta, and Kapha.
Health Benefits:
Enhances immunity, good for eyes, skin, and hair.

Helps in improving the efficacy of other vitamins in the body. 

Amla is also known to improve vitality.

 Amla is considered the most powerful herb to manage overall health and well being.

Ideal for lessening skin problems like acne, wrinkles, and other skin problems.
How to Use:
Take 15-20 ml of Nutriorg Amla Juice in 200 ml of lukewarm water in a non-metallic pot and consume an empty stomach twice a day preferably morning and evening.