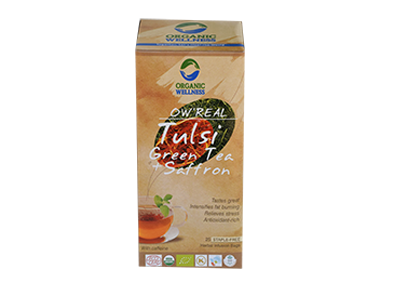 OW' Real Tulsi Green Tea + Saffron
Currently this Product is Out Of Stock.
OW'REAL Tulsi Green Tea+Saffron is an surprising blend of Organic Tulsi and premium Green Tea complemented by exotic Organic Saffron.
Organic Tulsi helps relieve stress and boost immune system. It is packed with antioxidants which help detox body and keep it light and healthy. Green Tea boosts metabolism, helps burn up fat and assists in effective weight management. Saffron, among other things, is used to treat breathing-related ailments and as an expectorant.
Bring in Tulsi Green Tea+ Saffron which has these exotic flavors which are a perfect blend of rich flavors and fragrance.