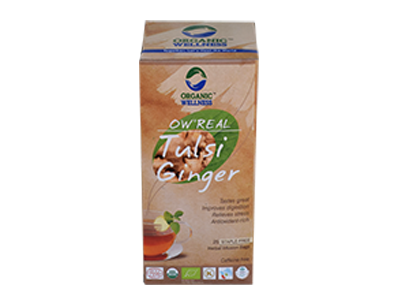 OW' Real Tulsi Ginger
Currently this Product is Out Of Stock.
OW'REAL Tulsi Ginger is a mouth-freshening blend of pure Tulsi and strong Ginger.
Tulsi is a great stress reliever. Rich in antioxidants, it helps eliminate toxins from the body that cause free-radical damage to cells. Tulsi helps in preventing the formation of gastric ulcers and provides a soothing feeling.
Ginger aids in digestion and being a carminative, helps in preventing cramps as a result of gas in stomach.
Organic Tulsi is a great stress reliever. Organic Tulsi benefits in eliminating toxins from the body and nourish it. Organic Tulsi works as a cooler for your body when heat beats you down. Organic Ginger aids in digestion also helps in preventing cramps and other problems related to Vata.
Organic Tulsi also works as a mouth freshener or any other oral problems. Organic Ginger is used regularly in Indian cooking as it helps make the dish easy to digest. In India, people use ginger to make normal tea, herbal tea, green tea, syrup for indigestion etc. Organic Tulsi-Adrak chai is popular among youths and working people.