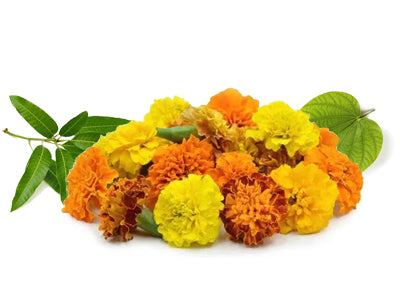 100% Organic Zendu /Genda / Marigold Flower
Currently this Product is Out Of Stock.
Farm Fresh 100% Organic Marigold Flower Online
Color: Orange & Yellow mix
Mango Leaves are Complimentary with marigold flowers.

In India, Marigold is one of the most commonly grown flowers and used widely for spiritual and social functions in various forms. Dussehra is a festival of prosperity and wealth. For auspicious reasons, Indians like to decorate houses with delightful marigolds or Zendu, making torans and dedicate them to Gods. Also, the marigold's orange & yellow flowers are often placed around Diyas, Rangoli, and festive food to create a strong festive atmosphere.
Marigold having multiple health benefits such as it contains natural antiseptic/anti-inflammatory properties, reduces eye infections, and supports skin healing.
Shop 100% Organic Zendu (Marigold) Flowers Online at the best price in Pune. Mango leaves are free on Genda flowers.