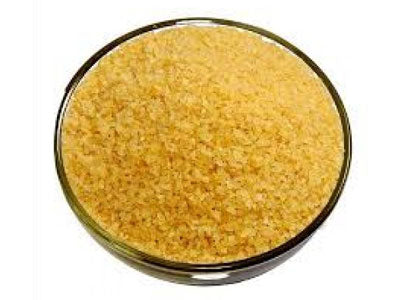 Organic Wheat Daliya
Currently this Product is Out Of Stock.
Daliya or Bulgur/ Bulghul is a cereal made from cracked parboiled groats of different wheat species, mostly durum wheat species. It is known to originate from Middle Eastern cuisine. It is a whole grain. It has four types, fine, medium, coarse and extra coarse based on the sizes. Other places where it is known to be cultivated in the Mediterranean basin, United States of America and some parts of Asia. Oats, Daliya or Porridge are all the same thing. Daliya is half ground wheat.
Daliya is highly nutritious for us. It is a good source of dietary fiber and protein which help in keeping our cell membrane in shape and hence ultimately keeping our tissues intact. It also helps in keeping our digestion process running smoothly. It contains many essential vitamins like Vitamin A, Vitamin B1 (Thiamine), Vitamin B2 (Riboflavin), Niacin (B3), Vitamin B6, Folate, Vitamin C and Vitamin E. It also contains minerals which aid in keeping our body healthy. These are calcium, iron, magnesium, potassium, phosphorus, sodium, zinc and it also has high water content.
You can try making a homely bowl of daliya khichadi. You can even try something different like namkeen daliya or sweet daliya in case you have a sweet tooth. A sweet kheer is also an option for dessert. Some other recipes that taste great with daliya are upma and vegetable daliya.