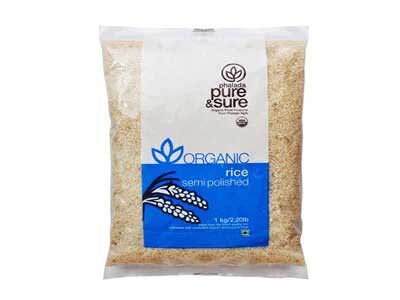 Organic Semi Polished Rice (Pure&Sure)
Currently this Product is Out Of Stock.
We live in a world which is slowly getting skeptical about rice and believe that it makes us fat. In this situation, shall we give up on rice, or shall we find a substitute? It might not be a worthy idea because giving up rice means decreasing consumption of amino acids (protein's building blocks) and Vitamin B. So why not to make a simple switch to certified organic semi polished rice?
Natural organic semi polished rice is polished in such a way that it does not lose its nutrients (proteins, Vitamin B and fibre), but gets rid of outer bran. So in nutshell there is no negotiation on the taste but it still contains the High Nutritional Value of rice.
Beetroot rice is a stress-free and speedy recipe for your little ones and a brilliant way to take account of beetroot in your kid's diet. It is made by adding finely chopped or grated beetroot to rice along with veggies like peas or any other of your choice. It looks attractive due to its excellent color and is exceptionally healthy!