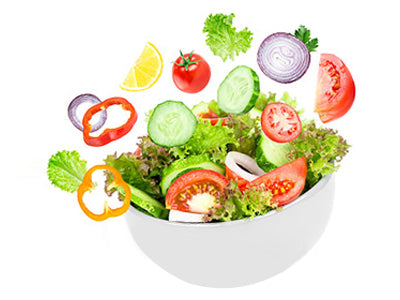 Organic Salad Box
Currently this Product is Out Of Stock.
If you are a real salad lover and cannot imagine missing it single day, go ahead and order Orgpick organic salad combo box.  Salads have always topped a nutritionist or dietician's menu for providing all benefits and no loss. Each person, be of any age, should a minimum have a bowl of salad every day, and those who are health and weight conscious, can replace carbohydrates with large servings of salads to effectively tackle their weight problem.
Salads are basically vegetables and herbs that are consumed raw and are loaded with vitamins, minerals, and fiber. They are amazing antioxidants and detox agents which are colorful and tempting. Orgpick is offering you an affordable fresh organic salad box which would cater to a family meal of 3/4 for 4-5 days. You will have all organic beetroot that will check your blood pressure, carrots loaded with vitamin A and antioxidants, cucumber that is low in calories and mineral packed, and radish that is immunity booster and kidney cleanser. Plus, you have the essential foundation of salad, the organic lemons, onions, and tomatoes, all in good quantities.
On weekends, go only for a huge bowl of organic salad recipe mixed with some fruits, walnuts, and yogurt to enhance the taste. But to plan this, first order Orgpick organic salad box and discover various salad recipes.