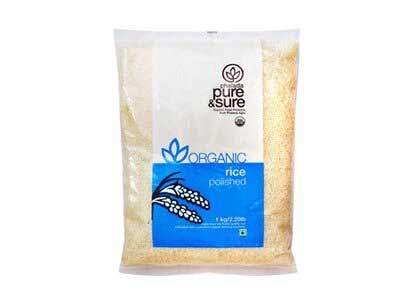 Organic Polished Rice (Pure&Sure)
Currently this Product is Out Of Stock.
According to International Rice Research Institute (IRRI) half of world's population depends on rice. Since thousands of years, rice is nourishing a wide range of humanities and cultures. On the other hand, polished rice as a primary food is relatively a new concept. It is still widely popular at present. Pure organic polished rice can be cooked at ease and enjoyed for its subtle taste. Polished rice has attained larger fondness due to the change in surface (removal of insoluble fiber), the improved digestibility, and the easier chewing quality.
Best polished rice mainly constitutes minerals such as calcium and iron; it is also full of vitamins, such as niacin, vitamin D, thiamine and riboflavin. Pure polished rice has numerous health benefits; it is an instant source of energy for the body. It is good not only for the skin but also contributes in maintaining blood sugar levels.
There are sample of methods to make instant healthy organic polished rice taste good. Like these 2 here: Give your home cooked rice a Mexican touch by adding creamy chipotle sauce to it with a combination of cilantro and drops of lemon juice. Don't want to compromise taste in spite of being in hurry? Make quick burrito dish by rousing little but of salsa with your rice. Enhance the dish with avocado slices for some added creaminess.