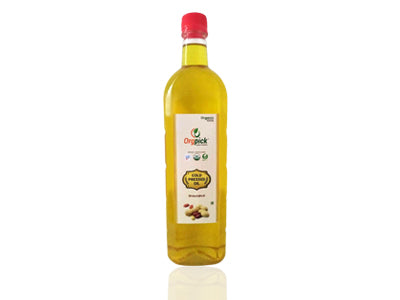 Organic Groundnut Oil (Shengdana Tel)
Currently this Product is Out Of Stock.
Orgpick pure organic groundnut oil is brought to you extracted from organic peanuts, also called as monkey nut. It has a nutty flavor and has been widely used in Indian and Asian cuisines for generations for daily cooking and frying. By the way, branded healthy Orgpick organic groundnut oil is cold pressed and so is cholesterol free and is safe for consumption by heart patients. Healthy organic groundnut oil can be used for massage purpose. It is also used in naturopathy to heal sunburns, constipation and bladder infections. In India, Gujarat is the largest producer of groundnuts followed by Andhra Pradesh and Tamil Nadu.
Buy Orgpick organic groundnut oil to get maximum health benefits. It helps lower bad cholesterol. The phytosterols protect against cancer and heart disease as natural organic groundnut oil is rich in heart-friendly monounsaturated fatty acids, namely oleic, linoleic and palmitic acid and antioxidants as well as vitamin E. Natural and pure organic groundnut oil also improves blood sugar control and insulin sensitivity. Those who are hypersensitive to peanuts should better avoid organic groundnut oil.
Unlike other oils, healthy organic groundnut oil does not turn rancid quickly and can be stored in tight containers in a cool place away from sunlight. It is well suited for frying and cooking and should be sparingly used as salad dressing. You can try tangy tasting coriander chutney prepared by grinding coriander leaves, tamarind, jaggery, and salt and finally tempering it with hot organic groundnut oil, mustard seeds and asafoetida.