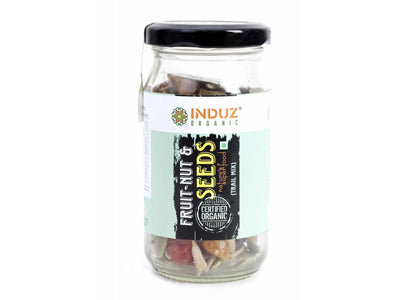 Organic Fruit-Nut & Seed Mix (InduzOrganic)
Currently this Product is Out Of Stock.
Organic Fruit-Nut & Seed Mix contains all the beneficial Dry fruits or nuts such as cashew, Black Raisins, Almonds, Pistachios, Walnuts, raisins, and many more in a one glass jar. Dry fruits have essential oils that are paramount to our health.
Dry fruits or nuts are the better substitutes for fried and unhealthy snacks.

Full of vitamins and nutrients.

Nuts are used as toppings over several desserts.

Dry fruits provide energy for people who love to workout.

Dry Fruits are the immunity builders.