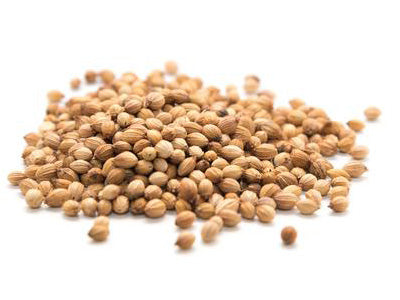 Organic Coriander Whole (Dhaniya Dhane)
Currently this Product is Out Of Stock.
In today's net-savvy digital world, it is no surprise that Pure Organic Coriander Seeds - also called Dhaniya or Dhane in Maharashtra, India- is so easily available Online, literally at fingertips. Coriander is quite a household name in many parts of the world, especially the ancient world. The dry coriander seeds are an unavoidable ingredient in various spice preparations and dishes.
Have you ever been through a tearful stomach pain? A few sips from coriander seed extract, perhaps, would be the most efficient remedy. Seeds are a good source of plant-based anti-oxidants. The unique aroma of natural organic Dhana seeds comes from some essential oils and fatty acids. Roasting brings out this aroma contained in the oils inside seeds. Apart from the aroma, these oils impart digestive and anti-flatulent properties to the seeds. Organic Dhaniya seeds contain a good amount of fiber. For diuretic effects (flushing the urinary system), you can soak Dhaniya overnight and drink water the next morning. Coriander seeds are also a rich source of vitamin K, A (carotenoids) and B group vitamins. And unlike many other spices, it also contains vitamin C. It is an excellent source of Copper, Iron, Manganese, Magnesium, Potassium, and Zinc
Use pure organic coriander seeds and powder liberally in preparations in combination with other spices to reap its health benefits. Seeds can also prevent hair fall and help in skin disorders like eczema, rashes, itching skin. As per Ayurveda, it is beneficial in normalizing menstrual irregularities and controlling blood sugar levels and cholesterol levels. If you really want the fresh coriander aroma, crush the seeds fresh as and when required rather than using stored powder.