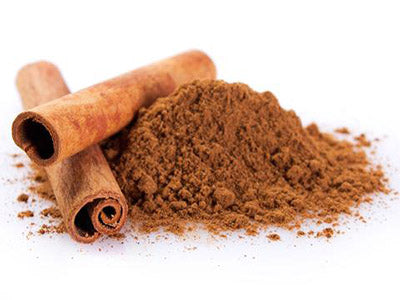 Organic Cinnamon Powder Dalchini
Currently this Product is Out Of Stock.
The original or true cinnamon, Cinnamomum zeylanicum, is acknowledged to be native to Sri Lanka. Organic cinnamon or dalchini is the bark of the tree that is used as a spice. It was even known to ancient Egyptians where the cinnamon paste was used for the embalming process. In the first century A.D., it was considered far more valuable than silver and gold. Natural and organic cinnamon is now grown in areas such as China, Indonesia, Vietnam, Mauritius, Guyana, and also in tropical climates like South America and the West Indies. Organic cinnamon powder, besides sweet and savory dishes, is also used in pickling and Christmas drinks.
Along with carbohydrates, protein and fat, organic cinnamon is a rich source of calcium, magnesium, phosphorus, potassium, and vitamin K, all microelements that act as antioxidants. It contains aromatic compound Coumarin which is thought to prevent blood clot formation and boosts cardiopulmonary function and colon health when consumed in very small quantities. Excessive consumption may lead to severe health problems. Branded and certified organic cinnamon powder is also known to be helpful to prevent brain disorders like Alzheimer's.
The spicy hot but unmistakably sweet aroma of organic cinnamon goes perfectly hand in hand with cardamom in sweet recipes. Some alcoholic and nonalcoholic cinnamon-fortified drinks taste pleasantly wonderful with a subtle spicy zing. Organic cinnamon powder can be used literally in any sweet or spicy recipe. Let your ideas run wild and try a pinch to your sandwich, omelet, pudding or kheer, or just enjoy in a glass of cold milk and cream with honey.