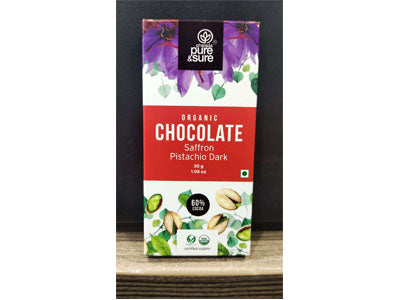 Organic Chocolate Bar-Saffron, Pistachio Dark (Pure&Sure)
Currently this Product is Out Of Stock.
Organic Saffron, Pistachio Dark Chocolate Bar is 100% certified organic and gluten-free. The major ingredients are organic cocoa beans, organic sugar, organic cocoa butter, organic pistachio(Pista), and natural saffron flavor. Dark chocolate is rich in minerals including iron, zinc, and magnesium. Organic cocoa in dark chocolate also contains antioxidants properties, such as flavanols and polyphenols.