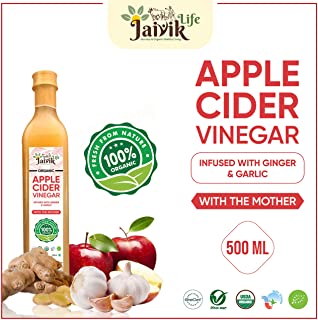 Organic ACV Infused with Ginger & Garlic (Jaivik-Life)
Currently this Product is Out Of Stock.
Organic Apple Cider Vinegar (ACV) infused with Ginger & Garlic is 100% certified organic and natural. It can help to lower blood pressure & cholesterol, and also works as a powerful anti-bacterial & anti-fungal. Apple Cider Vinegar can be used over salad. It can consume with warm water. Do not drink pure vinegar, always dilute with water.

Directions: Mix 1-2 teaspoon of organic Apple Cider Vinegar infused with Ginger & Garlic in a glass of warm water and consume on empty stomach every morning.