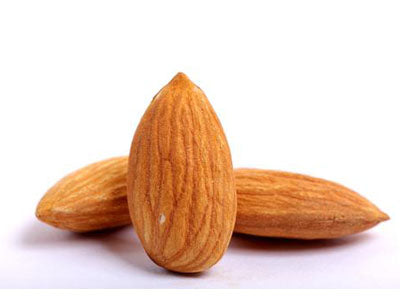 Organic Almond (Badam)
Currently this Product is Out Of Stock.
Almonds actually belong to drupes of the rose family and are called ""Queen of the rose family."" Almond species are native to regions of the Middle East belonging to the genus Prunus. The production of organic almonds is totally dependent on wild bees and honey bees for pollination. The United States tops almond production followed by Spain. There are sweet as well as bitter almonds which find its use in medicinal formulations. Best quality certified organic almonds also yield oil, butter, flour, and milk. In Iran, roasted organic almonds are consumed during New Year parties. In Greece, a soft drink is made from organic almonds.
Almonds are rich in proteins, vitamin E, and vitamin B and are loaded with antioxidants. They also contain substantial monounsaturated fat, oleic acid, and linoleic acid. It is presumed that regular consumption of natural organic almonds reduces the risk of heart disease and lowers LDL cholesterol, but sometimes, people may have allergy or intolerance to almonds. You can apply face mask prepared from soaked almonds, raw milk, and honey to get a smooth and even tone.
Buy the best quality organic almonds online and reap the benefits in the long run of life. They are a wonderful source of fiber, energy, proteins, and vitamin E right from infants to elderly folks. If you wish to go for long treks or vacation, always carry this energy booster with you. In hot summers, everybody just loves cool Thandai prepared from ground organic almonds, melon, poppy, fennel, basil, and pepper seeds. Blend it in water with mint essence, sugar, and cardamom.