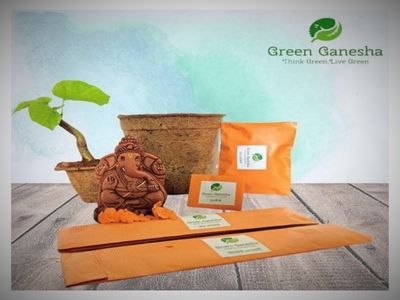 Green Ganesha Kit
Currently this Product is Out Of Stock.
The 'Green Ganesha 2021' kit, which includes the Bappa idol made from 100% red soil and other good stuff that will help you surrounded with pure and healthy vibes.

This kit consists of :
1. A 6" high Ganesh Idol made from red soil.
2. A 6½" high coir pot.
3. A ' Gulvel (Giloy)' sapling.
4. A 3" high coir pot (for the sapling).
5. Bhimseni incence sticks.
6. Ajwain incense sticks.
7. Seeds of Holy Basil (Tulsi) to plant in the same pot after the idol is immersed.
Delivery Note:  This product is available only for Pune and PCMC. Free delivery will be done in 3 days.