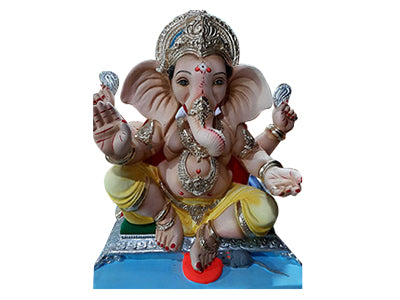 18 IN Madras Eco Friendly Shadu Mati Ganesha - Yellow
Currently this Product is Out Of Stock.
Specifications-
Height: 18 Inches
Material: Shadu Mati/Clay
Features: Eco Friendly, Pollution-free Visarjan at Home, made with shadu mati with natural colors
Shipping: Safe Home delivery in Pune

The Eco-Friendly Madras Ganesh Murti with Yellow Dhoti and golden Mukut looks very attractive. The height of the murti is 18 inches. The Ganesha Idols are made up of the river mud (Shadu Mati) with natural colors. We celebrate the Ganpati festival on Ganesh Chaturthi when the arrival of Lord Ganesh to earth from Kailash Parvat. This year will celebrate the Eco Friendly Ganesh festival at your home with Orgpick.

Ganpati Bappa Moraya!!