Prawn, Mango and Onion Pakoras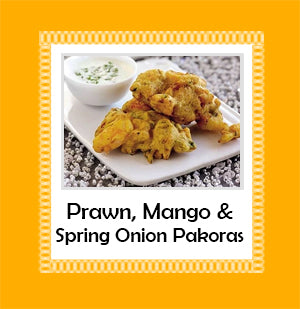 Time: 20 mins
Pakora makes you remember- the rain, but don't wait for the rainy season. Go and twist it with ripe mangoes and prawns. Make it a perfect summer blend.
Ingredients :
For the dipping sauce :
200ml carton coconut cream
large knob of ginger, peeled and roughly chopped
handful coriander leaves
Method :
Take the flour into a large bowl and mix in organic turmeric powder, organic garam masala and a large pinch of salt. Make a well in the middle, then gradually pour in 100ml water, whisking well until you have a smooth, but very thick batter(make sure there are no lumps left). Mix in the mango, spring onion and prawns.
Heat the oil for deep-frying, then drop in spoonfuls of the batter to make pakoras.
For the dip, blend the cream, ginger and coriander together in a food processor until smooth. Check for seasoning, then pour into dipping bowls to serve with the pakoras.You can make the dip 2-3 days before and keep it in the refrigerator. Take it out to room temperature before serving.
Source :