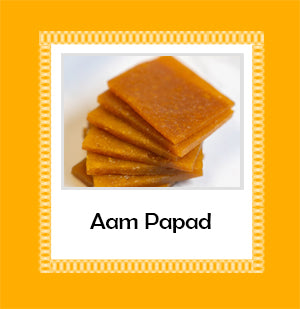 Servings: 12 slices
Cooking Time: 12-15 mins
Drying Time: 2 Days
Yay, it's summer time! Thinking of some more mango recipes then Aam papad should be one. Aam Papad is one of the favourite among mango desserts. It is quite delicious and tastes like a tangy candy. Try this recipe at home by following some simple steps.
Ingredients :
Method :
Add chopped mangoes and 4 tbsp organic sugar in the blender, and blend it till a smooth paste.
Add mango puree to the Kadai or Pan.
Stir continuously and cook on medium flame until it thickens well.
Now, add cardamom powder and mix well.
Take one steel plate and apply 1 tsp organic ghee or butter on them, transfer the paste onto the plate, and spread uniformly.
Sundry it for two days or a week until it turns translucent.
Scrape the sides using the knife and peel gently without damaging the aam papad.
Now, cut into the desired shape and roll aam papad.
Eat anytime, anywhere.
Source :