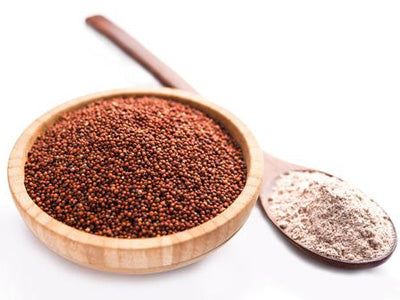 Organic Finger Millet (Ragi Nachni)
Currently this Product is Out Of Stock.
As complicated as its scientific name, Eleusine coracana, the name we know this cereal crop with is easy, Ragi. Finger Millet grows in arid and semi-arid areas like Asia and Africa. It is a self-pollinating crop. It is native to Ethiopia and Uganda highlands. It is able to withstand high altitudes approx 2000 M above sea level. In fact, it is favorable for the plant. It also has a high tolerance for drought and very good shelf life. It is a monocot crop which originated from East Africa and India observed it being cultivated here around 2000 BCE.
Ragi or Finger Millet is high in calcium which is an important nondairy source of it. It is known to control diabetes. The grain contains dietary fiber in a high quantity which keeps our digestion at its best. Finger millet improves our metabolism as well. It helps in reversing skin aging by maintaining the youth in our skin. It also helps in reducing anemia symptoms and increases the hemoglobin content in our blood. It aids in weight loss and keeping our body fit.
You can try making sweet delicacies like Chocolate finger millet cake or ragi laddoo. Other recipes that use finger millet are Ragi dosa or roti, Finger millet upma. You can enjoy finger millet idli and sambar for breakfast or a delicious roll of ragi aloo paratha for lunch.