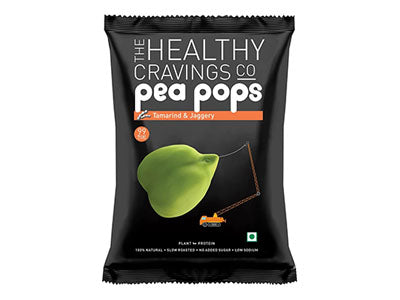 Roasted Pea Pops - Tamarind & Jaggery (The Healthy Cravings Co)
Currently this Product is Out Of Stock.
Pea's neighbor, Jaggery, was in misery because she lost her jewelry in a robbery. Detective Tamarind's mind was tired of the grind. But he said, "nevermind let's find who the mastermind is behind this mystery". Tamarind suspected Pea as he earned peanuts. Pea said, "Tamarind you're blind, let me remind you of my kind deeds." The truth is inside this pack. Be careful while opening the pack! Peas out!
Ingredients: Green Peas, Rice, Oats, Tamarind Powder, Mint Powder, Jaggery Powder, Black Pepper Powder, Chilly Powder, Rice Bran Oil, Salt, Natural & Nature Identical Flavors
Benefits: 
100% Natural

Cholesterol-free, gluten-free, dairy-free

0% Trans-fat

Plant-based protein

No Preservatives, No Artificial Colors, No Additives

Rich in Antioxidants