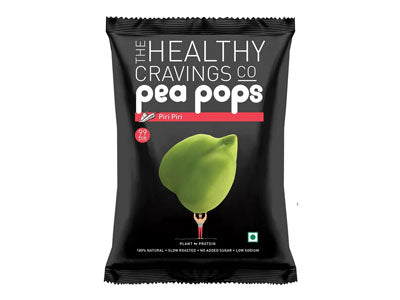 Roasted Pea Pops - Piri Piri (The Healthy Cravings Co)
Currently this Product is Out Of Stock.
One day Pea visited his twin cousins. They were fighting as usual. He was tired of the piri-anks and just wanted some peas of mind. Pea found the piri-fect solution to this piri-blem. He said to them "Whoever piri-tends to be asleep for longer will win! Be careful while opening the pack they are still piri-tending. Peas out!
Ingredients: Green Peas, Rice, Oats, Dried Red Chilli Powder, Garlic Powder, Onion Poder, Dried Basil, Dried Rosemary, Dried Thyme, Dried Tamarind Powder, Rice Bran Oil, Salt, Natural &Nature Identical Flavors
Benefits: -
100% Natural

Cholesterol-free, gluten-free, dairy-free

0% Trans-fat

Plant-based protein

No Preservatives, No Artificial Colors, No Additives

Rich in Antioxidants