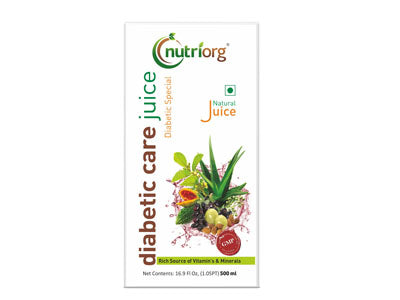 Natural Diabetic Care Juice (Nutriorg)
Currently this Product is Out Of Stock.
Nutriorg Diabetic Care Juice is a natural and unique combination of Bitter Gourd (karela), Indian Blackberry(Jamun), Harad, Amla, Baheda, Gymnema Sylvestre(Gurmar), and Aloe vera Juice. Karela and Gurmar are known as a destroyer of sugar. A combined effect of this formula helps to maintain a healthy system. 
Health Benefits: 
Karela has been used for lowering glucose levels in the blood

Gurmar has the tenacity to reduce sugar cravings and when taken along with medication helps to reduce sugar levels in the blood.

Helps in weight loss and boosts immunity
How to use:
Recommended quantity for consumption is 15-20 ml in lukewarm water in a non-metallic container